NAKED AT THE PODIUM:
THE WRITER'S GUIDE TO SUCCESSFUL READINGS
Peter V. T. Kahle and Melanie Workhoven
How to use drama as a tool to give dynamic readings anywhere.
This practical book of tips, solutions and exercises was born of a writer's angst: how to present material in a way that was appealing to bookstore audiences, flexible enough to use in non-traditional venues, and dramatic enough to keep any audience awake and eager to buy. Adapting the tools actors use to a writer's particular needs cured the angst and made readings profitable and fun.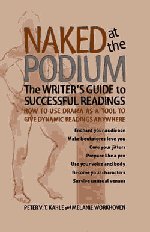 Authors are everywhere these days, pitching their books in bookstores, yes, but also at libraries, in department stores, at book fairs, on local and public radio, on every TV interview show from local access to "Oprah" and "The Daily Show with Jon Stewart".
As a result of this greater exposure, audiences are expecting a greater level of performance. They want you to make a presentation. They want a Show. You can't just stand up there and read. You must bring something extra to the event - some special information or connection. Your audience wants you to be comfortable, and fluent. But, you must engage them from the very start.
A great majority of books on presentation skills are aimed at business people and designed for meetings. Most books on book promotion mention readings, but do not suggest how to construct one, or how to combat stage fright. Most books on voice development and characterization are aimed at actors and don't say anything about closing the sale. This book is the first that combines the experiences and skills of a stage, film and television actor, radio personality and acting coach with those of a published author with more than a decade of experience organizing writers conferences. The information gathered has been enriched with impressions collected from bookstore owners, librarians, writers, publicists and publishers. Take a look at the
TABLE OF CONTENTS for more detail.
WHAT OTHERS ARE SAYING
Savvy writers know if they want a book to sell, they must sell it themselves through store visits, signings, readings. In my leadership role in a large writers organization, I've seen countless writers flub appearances, and I've suffered through far too many disappointing readings. Every writer needs this book. It tells you how to sell yourself to sell your books.
Al Sampson, President, Seattle Institute of Media Arts
Melanie Workhoven is a wonderful teacher and a dynamic speaker. This book will help any writer give much better presentations.
Paul Lerner, author
Lerner's Consumer Guide to Health Care: How to Get the Best Health Care for Less
(as seen on a 5-part series on NBC's "Today Show")