---
Shakespeare and Poetry
---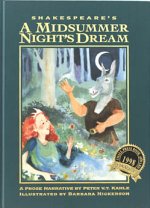 Shakespeare's A Midsummer Night's Dream: A Prose Narrative By Peter V. T. Kahle
Illustrations by Barbara Nickerson This charming re-telling of Shakespeare's play in story form makes an excellent gift for adults and children to share. The beautifully illustrated 8 x 11" hard cover volume will transport you to Shakespeare's world of courtly lovers, enchanted forest, fairies, magical transformations, the romantic battle between Titania and Oberon, and the comic antics of Puck, Bottom and the Mechanicals. Designed for children ages seven to fourteen, the narrative contains many favorite lines. Stephanie Shine, Artistic Director, Seattle Shakespeare Company - "A child who has this book read to them as a first exposure to Shakespeare will undoubtedly go to the theatre with enthusiasm to see A Midsummer Night's Dream and treat it as a magical old friend." Nancy Pearl, Washington Center for the Book, KUOW Radio 12/96 - "(A) beautiful retelling of a Midsummer Night's Dream ...with wonderful watercolor illustrations...a very good introduction to Shakespeare for kids. It doesn't skimp on the Shakespeare quotes, but it makes the story accessible to young people."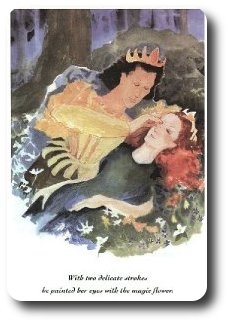 "Finalist, 1998 Small Press Book Awards"
Juvenile / Young Adult Fiction Category The book's special feature is an envelope containing playscripts designed to allow a child to perform two scenes from the play. A prologue and epilogue introduce Shakespeare's time and language and give staging and costume suggestions. This lyrical narrative will make a handsome addition to any book lover's library.
---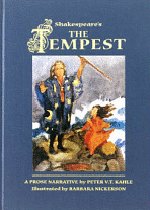 Shakespeare's The Tempest: A Prose Narrative
Written lovingly for children (and adults)
By Peter V.T. Kahle
Illustrated by Barbara Nickerson The Tempest is a play about magic and a wild deserted island in the middle of the sea. Prospero, Duke of Milan, has been stranded by his enemies upon that island with none for company save his three-year-old daughter, Miranda. Twelve years they endured, while Miranda grew wise under her
father's teaching and beautiful as a rose; and Prospero studied his magic arts and gained great power. This is a tale of revenge and forgiveness, about freedom and true love, about a wise magician, an angry monster, a grief-stricken king, a handsome prince, two treacherous brothers and a beautiful maiden. The book includes a Cast of Characters and a Glossary of interesting and fun Shakespearean words. The Afterword describes how the play may have been mounted using 'special effects' of Shakespeare's time. Hardbound, 96 pages
Eight color, two black and white illustrations
Retail price: $22.95
Frank Mack, Managing Director, California Shakespeare Festival
Kahle's The Tempest is an outstanding example of how to retain the complexity of characters and brilliance of the language...while also making the work accessible to young minds new to Shakespeare's infinite world.
---
POETRY FOR A MIDSUMMER'S NIGHT
Marvin Bell

In the spirit of William Shakespeare, with a contemporary twist of words only Marvin Bell could craft, Poetry for A Midsummer's Night will be savored again and again.
A wise person once said, "You should read poetry aloud, at least once in your life, under a midsummer night sky". (And a good bottle of wine wouldn't hurt.)

Like Words, Like Music
Sumptous oil paintings by Mary Powell set the stage for a magical night in the forest, an evening with friends, or a moment with a lover.
ISBN 0-9655702-1-5
Hardbound, gold stamped, 48 pages
5.5 by 11 inches
8 full color plates
ORDER
---